Cruising with Food Allergies!
Whew!  This summer is sneaking away from me.  How can it possibly be August already?  I have taken a much needed break from the computer the past month.  It wasn't entirely away but I cut back by at least 50%.  Unfortunately for you that meant no blog posts.  No worries I have lots of good stuff to come.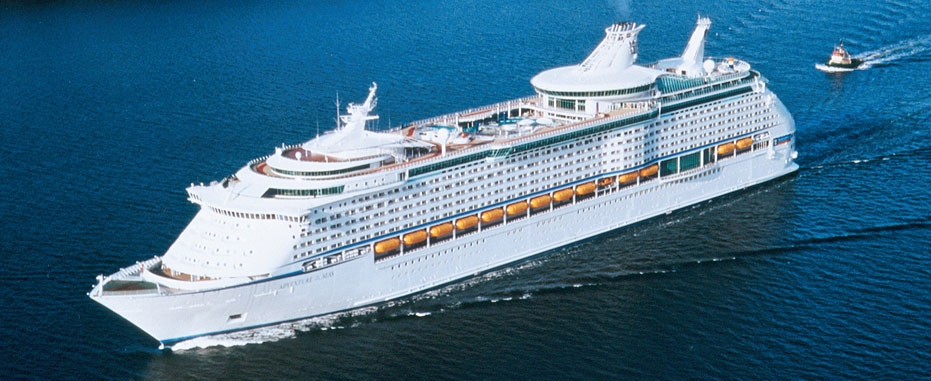 We recently got back from a 10 day Cruise with my hubby's side of the family.  I know, I know,  anyone who knows me is probably laughing and thinking "wow I never pegged her as the cruising type".  If you are thinking that, you are totally right.  My perfect vacation is a little cabin isolated from everyone,  65ish degrees during the day and 50 at night, hiking…..  I could go into more detail but that is not what this is about.
So, cruising.  No it isn't what I usually do, but I have to say it is a great way for large groups to travel, with something for everyone to do.  Believe it or not the big Cruise lines are amazing at accommodating for food allergies/intolerance/preferences.
We have cruised with both Carnival and Royal Caribbean now and they both work very hard to make the vacation worry free on all accounts.
I wish I could share some photos with you but for some reason I am still having issues with uploading photos to the blog lately.  The big photo above is the ship we were on but it is just the photo from the Royal Caribbean site.
When vacationing we usually drive most places or are going places where we can bring our own food.  Our car trunk is like our own little personal kitchen, stocked with coolers and grocery bags over flowing with options.  So knowing that we couldn't just bring our own food onto the cruise ship we ventured forth trusting that the cruise gods would provide!  They did!
After getting settled into our rooms we decided to have a little lunch before swimming.  The buffet was beautiful with tons of fresh fruit to choose from, salads, burgers, fries, stir fry, curries, soups and more!  Now our food allergies are not life threatening nor do we have Celiac.  So we feel comfortable choosing our food from the buffet without worrying about contamination.  For us it was very easy to navigate through and use common sense where needed.  Also if we wanted something specific they would go to the back and grab gluten free items (breads, bagels, cookies etc…) if we needed them.  We really didn't need to do this as there were plenty of options to choose from.
In the formal Dining room the first night was a bit of a struggle.  Even though we had filled out the proper forms ahead of time we arrived to dinner with not much to choose from the menu.  The servers were more than happy to supply us options  that the chef would prepare for us.  This was great but it did take a great deal longer to get our food (tough for an 8 year old to sit at a fancy table for over 2 hours)  They proceeded to bring out 3 delicious kinds of bread, along with our gluten free pasta dishes.  Though the pasta lacked in flavor and texture we appreciated the gesture.
The head server and the dining room manager brought us the menu for the next day and we discussed what we might have prepared so that it would not be such a long wait the next night.  Each night they did this after the first night.  If there was nothing that worked on the menu they made suggestions and we were able to order something different.
We learned later (my sister-in-law got a tour of the kitchens) that there is a special area of the kitchens where all of the allergy free food is prepared to prevent cross-contamination.  So in the event that you need food prepared specially for every meal you can go to the dining room rather than the buffet for any meal you choose.  You can order anything you want in advance or else you will just have to wait a bit longer to get your food.
We choose to go for the buffet most meals but usually at supper time we when to the main dining room.  However I will admit the buffet was much more our style, not because it was a buffet but because it was so relaxed.  We could grab what we liked and leave the rest.
Near the end of the cruise we did decide to try out a few things that we have not eaten in a while just to see,  bad idea!  Both Liesl and I had terrible belly aches, could have been the dairy or sugar overload probably both!
I will say that they could use a little updating on the gluten free pancake mixes and pasta they use.  There are so many terrific gluten free pastas out there and that would make a huge difference in creating more interesting and better tasting dishes.  The pancake mixes and other bread like products could also use some revising.  Again with all of the amazing brands out there I think they would really benefit from changing it up  a bit.
Since I could live on Curries I was a happy camper.  Not having bread and pasta has never been an issue for me but it would have been nice to always have an easy and tasty option for dinner for Liesl and Dave.
Over all the service and attention could not be beat.
Thanks Gram and Pop Pop for taking us on an amazing trip!